In this one-hour event, you will learn the ins and outs of your favorite Springtime flowers, and how to make them work together to create a beautiful centerpiece for your spring celebrations, or a lovely Easter gift . Choose from homegrown primrose, ranunculus, pansies, dianthus, English daisies, and more, along with houseplants to really make a one-of-a-kind container! The workshop fee includes a rustic twig & moss planter (fee based on size/style), soil, and instruction; plants and embellishments are additional. Workshop fee based upon containter style selected (please see inset photo for options.)
*Update 2.27.20: These workshops are sold out.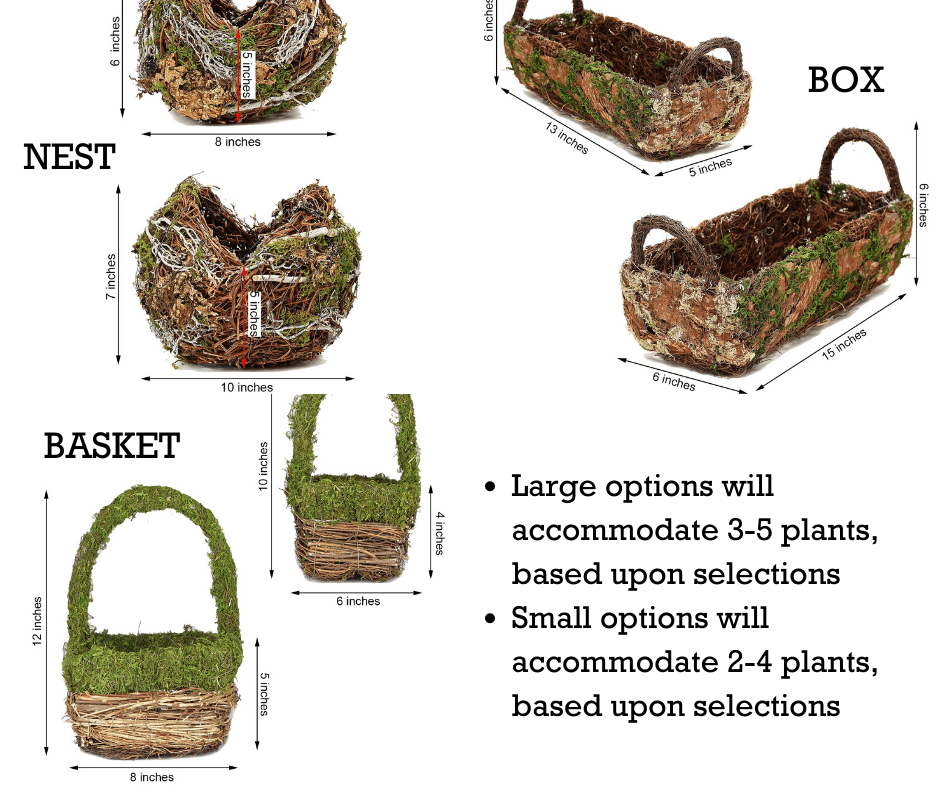 Small options: $20/attendee
Large options: $25/attendee
The workshop fee includes a container, soil, tools, and instruction. Plants and embellishments are additional. All supplies must be purchased at Miller Plant Farm at the time of the workshop. Outside items are not permitted. In order to allow for sufficient workspace, we ask that only registered participants attend the event. This is a standing workshop. If you require a chair for this event, please make this request upon registration. By attending this workshop, I am granting permission to Miller Plant Farm Inc. to use any pictures or likenesses of me secured at the event in any way they see fit without review, restriction, or compensation. Space is limited and registration (either in-store or online) is required. In the event that minimum attendance is not reached, you will be notified in advance and refunded of all charges to your original payment method. Workshop fee is non-transferrable & non-refundable.