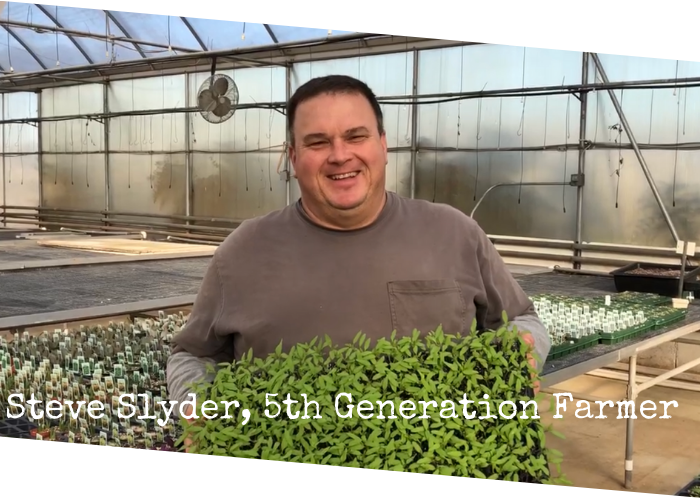 Greetings from the Irrigation pond. The water level in our pond has been low for quite some time. The remnants of the hurricane brought us some much needed rain. We had been running irrigation pumps almost around the clock. You have probably noticed the large red irrigation line near our mailboxes. This line goes from our creek at the wholesale greenhouse to the pond on the other side of the farm. When water levels get very low in the pond we pump from the creek thru this line to the pond. It is one of our last resorts to keep watering our crops during drought conditions. The much needed rain has been a big relief.
We have just started to pick some Yummy peppers. These are some of our favorite summertime veggies. My family loves stuffing Yummies with hot pepper cheese and grilling them. It makes for a great appetizer or snack when grilling for friends or family at cookouts. You will be seeing them in the CSA in the next few weeks. I hope everyone is enjoying their summer, and these slightly cooler temperatures should make for some fun times in the backyard! Stay safe.
-Steve
Share Details
We list the types of items you will likely receive each week. Due to frequent and last minute changes in harvest, quantities distributed are to be determined on pick up day. Full Share typically receives larger portions of given items than small share. Actual share items are subject to change depending upon availability, if necessary.

Week #10
Small Share:
Spaghetti Squash
Watermelon
Onion
Pepper/Eggplant
Tomato
Corn
Full Share:
Yummy Peppers
Cherry tomatoes/Roma tomatoes
Onions
Peaches
Cantaloupe/Canary Melon/Honeydew
Corn
Blackberries
Updated 8.9.20