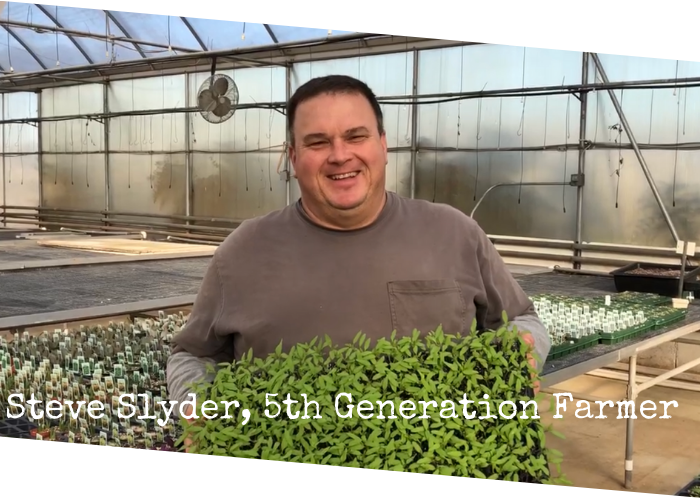 Greetings from the hay field! It is the first 90° day of summer as the sun is shining brightly. Some of you may know what they say, "You have to make hay when the sun shines!" We may not cut a lot of hay, but it is still a hot and important job every year.
Once you cut the grass fields, it usually takes two days for the grass to dry enough that it can be baled. If you happened to pick up your CSA share this past Tuesday, you probably heard the tractor and baler running as you exited your car.
This year some of our grass fields had some "volunteer" wheat in them making our bales exceptionally heavy. I believe most of those bales were in excess of 80 pounds a piece!
Every time the crew unloaded a wagon they'd ask how many more wagons left to go? (It is an old farmer's trick to tell the wagon crew a higher number than reality. The surprised look on their faces when they realize they have finished "early" is always a delight!) The crew definitely slept well that night!
In other news, vegetables are ripening a little slower than last year. That said, I still expect our squash plants to start producing a large harvest in the next few days. It seems to have been a long time since I could grill some fresh zucchini; one of my family's favorite summer vegetables. I hope you enjoy them as much as us!
I believe that is all for now! I hope your summer is starting off well. Be safe and take care.
-Steve
Share Details
We list the types of items you will likely receive each week. Due to frequent and last minute changes in harvest, quantities distributed are to be determined on pick up day. Full Share typically receives larger portions of given items than small share. Actual share items are subject to change depending upon availability, if necessary.

Week #2
Small Share:
Lettuce
Broccoli
Strawberries
Squash/Cucumber
Sugar Snap Peas
Full Share:
Lettuce
Kale
Kohlrabi
Sugar Snap Peas
Strawberries
Broccoli/Cauliflower
Spinach
Updated 6.15.20