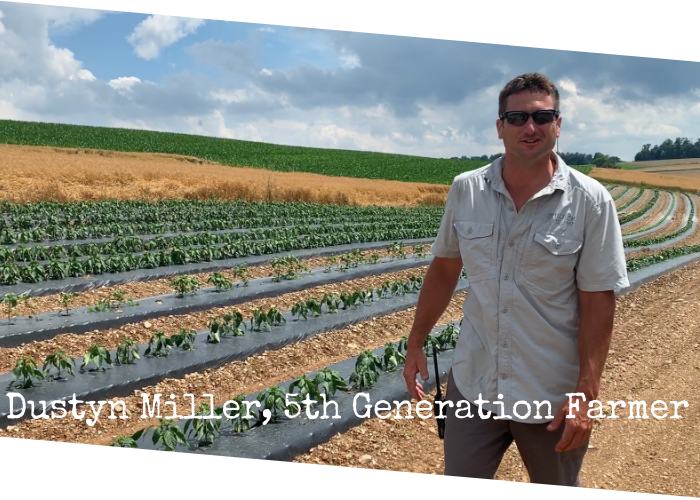 Happy Summer!
That's right – its officially summer! That means dawn at 5:05am and dusk at 9:12pm, at least for the longest day or two. Long days are what it takes right now at Miller Plant Farm. Not only for the long periods of daily heat and sunshine which keep the fruits and vegetables growing, but long days providing the opportunity to get all of the chores done too!
The month of June serves as a transitional time at Miller Plant Farm, where we make a shift from greenhouse vegetable plant production to more field vegetable production. All of the vegetable plants that we grow, and harvest, are started at Miller Plant Farm in our greenhouses. This vertical integration keeps our quality standards high and also ensures us access to the best varieties, producing some of the best vegetables which we can share with the community!
This week we were able to plant another round, one more of our successive plantings, of many of our homegrown favorites such as sweet corn, watermelon, tomatoes, cucumbers, and more. These successive, or staggered, plantings ensure a fresh supply of vegetables all through the summer months. This is a great practice to apply even on a small scale, such as a home garden. Don't just plant six tomato plants one time. Do plant two tomato plants three times (two or more weeks between plantings). Under this method, when one planting has surpassed its prime, the next is ready to offer its first fruits.
This past week also provided a great opportunity to harvest and put away enough hay to feed our small herd of beef cattle. If you come to us by way of the Leader Heights area you may notice the cattle, grazing the hillside on the east side of the farm. It always seems as though the hay gets bailed on the hottest days of the year, but this year proved to be an exception. The weather was quite pleasant, with a breeze too! It is always a relief to wrap up with bailing hay. Not only does this task require many different machines, and many hands to get the work done, but the weather can make or break the process. No delays or disappointments this year. Beautiful hay stacked high in the barn for 2021 cattle feeding.
Of course we are working hard at our daily tasks to keep the crops free of weed competition and well irrigated so that the yields are plentiful and top-notch. As I write this update on Saturday afternoon, we are anxiously awaiting this evening's rain chances. Most recent storm cells have dodged us at Miller Plant Farm, so a good soaking rain would be a welcome event. In the meantime we will keep our irrigation pumps working around the clock.
Thank you for reading, have a great week, and enjoy week 3 CSA!
Dustyn
Share Details
We list the types of items you will likely receive each week. Due to frequent and last minute changes in harvest, quantities distributed are to be determined on pick up day. Full Share typically receives larger portions of given items than small share. Actual share items are subject to change depending upon availability, if necessary.



Week #3: June 22 & 23, 2021
Small Share:
Lettuce
Squash / Cucumber
Kohlrabi
Sugar Snap Peas
Sweet Cherries
Full Share:
Kohlrabi
Spinach
Squash
Cucumbers
Red Beets
Sweet Cherries
Lettuce
Broccoli / Cauliflower
Updated 6.19.21